BANK NEGARA MALAYSIA
We comply with the guidelines issued by Bank Negara Malaysia and consistently follow the same to support the BNM's efforts to promote monetary stability and financial stability conducive to the sustainable growth of the Malaysian economy.
REGISTRATION & LICENSE
We are registered under the name Lotus Group Ent Sdn Bhd and our registration number is 747923-M.
We are licensed by Bank Negara Malaysia to carry out remittance business under the "Money Services Business" status.
CAUTIONARY STATEMENT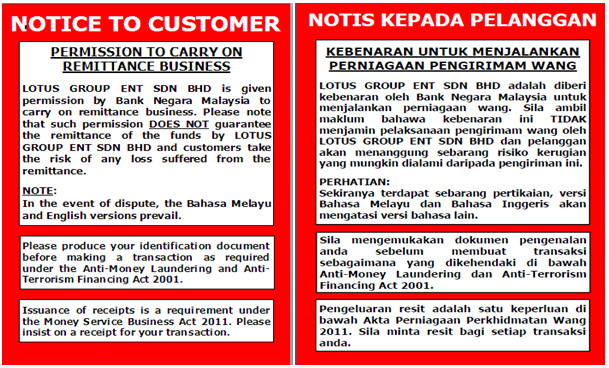 AML/CFT POLICY
At Lotus we believe that the Anti-Money Laundering and Countering Financing of Terrorism methodologies, when effectively implemented, mitigate the ill effects of criminal economic activity and promote greater levels of integrity and stability in global financial markets.
We are committed to examine our AML/CFT strategies, goals and objectives on an ongoing basis. We have established strict and rigorous AML/CFT regime through our comprehensive and sound legal, policies, institutional and supervisory framework. We strictly comply with the required levels of Know Your Customer and Customer Due Diligence norms of the Country.
DATA PROTECTION
At Lotus, we believe that security is our top priority and consistently ensure that our customers are supported with the required levels of assurance and peace of mind that their transactions are in safe hands. We strictly abide by the Data Protection standards and have established comprehensive policies and procedures to ensure compliance with the same.
Please refer the document of NOTICE PURSUANT TO THE PERSONAL DATA PROTECTION ACT 2010
All Lotus Remit transactions are transmitted through Secure Socket Layer (SSL) connections with 128 bit encryption which protects the entire user experience by ensuring that no unauthorized access is allowed. The internet firewalls and web-security restrictions that are in place ensure that every bit of customer information is safeguarded with highest security levels.